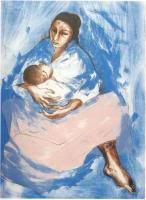 INFACT Canada is inviting registrations for our popular
Lactation Management Courses!
***** UPCOMING COURSES *****
Toronto, ON: September 11th - 13th, 2007
Summerside, PEI: September 24th - 26th, 2007
Charlottetown, PEI: September 27th - 29th, 2007
The courses are based on the WHO / UNICEF 20-hour Lactation Management Course, and is meant for any person wishing to understand the practice of and issues surrounding breastfeeding more fully. The goal of the INFACT Canada/IBFAN North America breastfeeding course is to facilitate the need to provide those working with mothers and their families the information required to adequately support breastfeeding.
As there are limited places available, please register as soon as possible to ensure a place in any of the courses.
For registration forms and more information, please contact us at:
inge@infactcanada.ca
or visit our website:
Infact Canada
Ingeborg Roorda
INFACT Canada
6 Trinity Square
Toronto, ON M5G 1B1
Phone: (416) 595-9819
Fax: (416) 591-9355
Email: inge@infactcanada.ca
Web: www.infactcanada.ca
"Protecting Promoting and Supporting Breastfeeding"